I have a completely unsubstantiated theory about manufacturing and players. It may not be completely unsubstantiated but I do not have the abilities to gather the data. That turns everything into conjecture and thought based only by observations.
Eve's layout was, for the most part randomly generated. Over the years connections have been added and taken away. But those are rather few. For the most part, Eve was thrown out and shaken to see where it settled.
In many games you start at point A and move to point B. You move to C and off to D. With a spring you head to E, hop to F, go back to D, look at G and start to wonder what is down around O and Y. But, rarely do you go back to A. As sandbox style games have evolved going back to areas becomes more common. You develop a base or home, a set of tasks and a place to go. You get places to leave your items and you head back there to resupply or store whatever goodies you have gathered.
Eve in many way violates that. We have storage at every station we can dock at. The market is not a singular shopkeeper or two but every player in whatever station they choose to use. The beginning may be the end and the end is only there if you decide that it is.
One of the best things the tutorial missions do is send a new player several jumps away. It helps to open up the world. For some it is the doorway to adventure and exploration. For others, it is nothing and like me they ran back home to crawl into their rookie station and feel safe and sound.
I was looking at this chart. But not for the reason people seem to look at it.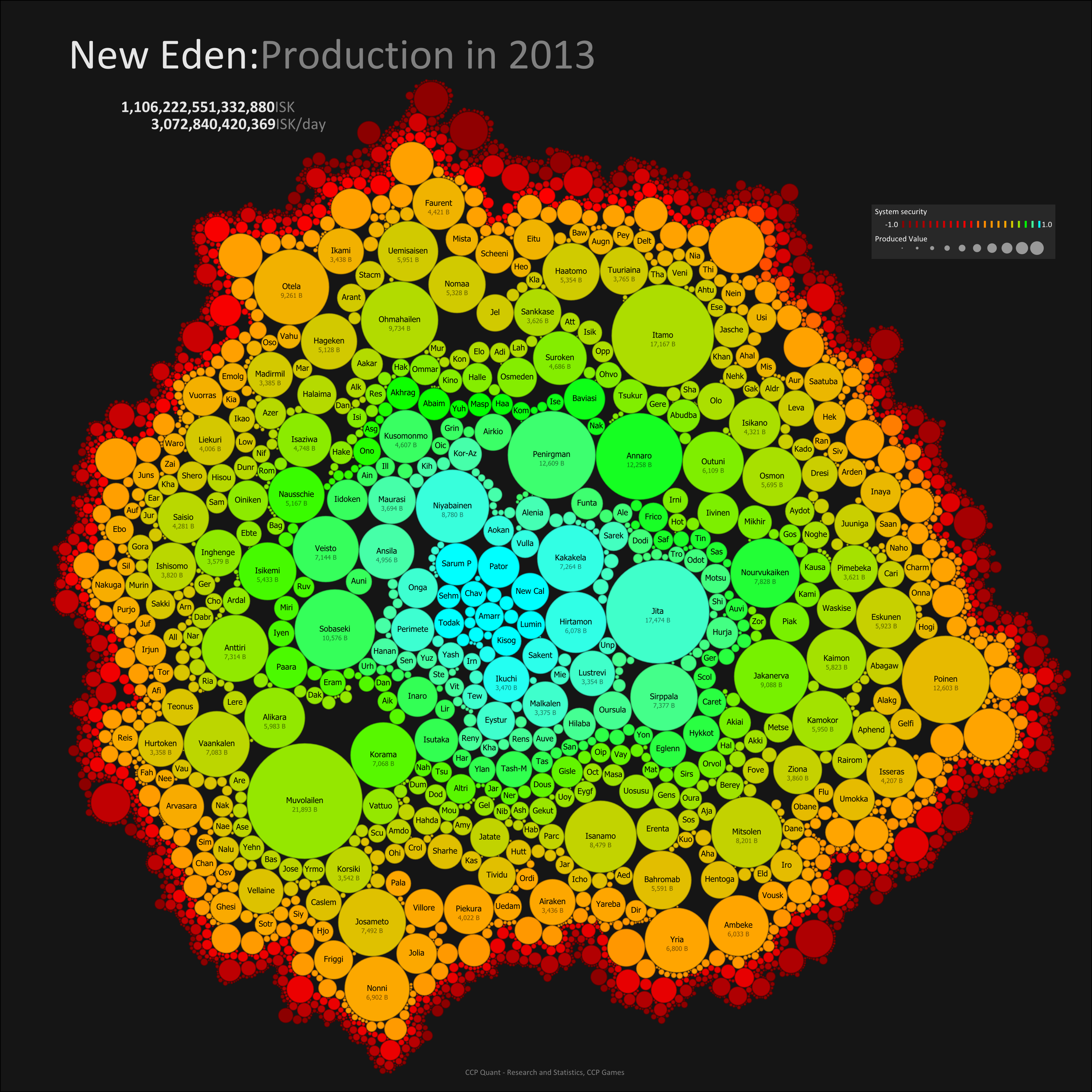 CCP is quite cruel and they have gotten very, very good at breaking information up so that we cannot figure things out from it. I looked at this and looked closely to see if the bubbles around Jita represented the systems around Jita. They did not and I was sad. I was sad because I believe that players have a habit of rippling out from a central location.
Jita. Rens. Hek.
Level IV hubs
Ice fields
Regional pipes
Level V hubs
Rookie systems
Have you ever seen a hulk in a starter system? Often great mining fleets work out of these areas, comforted by the soft blue of .9 space. In most games that would never happen but the horizontal layout of Eve causes it. And we spread out by needs or desires but we also focus around points of interest.
And we become entrenched.
Originally, when I was having these thoughts I was pondering the change Crius will force upon many. Resources will move. For the entire length of time I have played people have spoken of dynamic, moving resources. Now, to an extent we will experience that. I hope we are ready for it.
I don't think we are.
I think that the ripples represent something about Eve's structure. Empty space is not necessarily bad. An Even spread would mean homogenization. And that is a truly bad word in this game.